Reserved Order for H.R.
$

488.00 Sold Out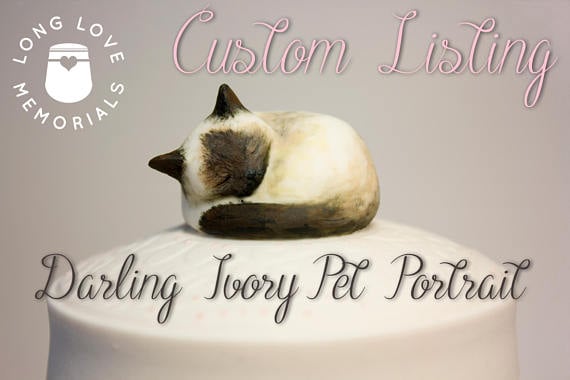 ✣ This is a reserved custom order for H.R. If you are not H.R. but would like to make a purchase, please see my other products or contact me.✣
4 Custom White Ring Bowls with Fluffy Silhouette in Orange
4 Pet Portrait Custom Keepsake Urns
• Interior glazed in a certified lead-free, food-safe colorful glaze with a smooth matte unglazed exterior.
• Smooth-sanded base to help prevent marring of table surfaces.
• Sleek design displays nicely within a variety of interior design aesthetics.
• Their petite size allows them to be displayed in many locations in the home or workplace.
• Hand-wash only. Use care when cleaning textured surface. Care Instructions included.
• Every item is made by hand, by me, in my Los Angeles studio.
PRODUCT DIMENSIONS
These wheel-thrown bowls are individually handmade, so dimensions can vary by up to 1/4". Approximate size is typically 3" round x 1.25" tall (7.6cm x 3.2cm).
TURNAROUND TIME
Many of these bowls are currently in stock. However, since these are a popular item, they might sell out while you're still shopping. Turnaround time for out-of-stock items and custom orders is currently 3-5 weeks. Feel free to contact me before placing your order and I can tell you what is in stock.
Turnaround time for OUT-OF-STOCK and CUSTOM ORDERS is currently 3-5 weeks
•Want something else? Check out my Keepsake Urns.
•Need a larger size? Contact me to place a custom order.
•Have a question about this item? Visit my FAQ page.
•Gift Certificates available in any denomination.
Share